China, august 2006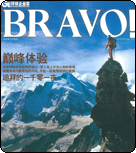 GLOBAL ENTREPRENEUR
BRAVO special edition
ITALY'S TODAY-GENERATION
Link » Visit GLOBAL ENTREPRENEUR site
Enthusiasts of international art, far-sighted collectors and investors with an eye on the future in China have not yet had the opportunity to appreciate the latest generation of young Italian contemporary artists. Yet in this 2006 there is no dearth of important events in Italian contemporary art organized within the framework of the year dedicated to Italy in China.
Some of the works of the generation of artists who left their mark on the second half of the 20th Century, already classics, like Carla Accardi, Lucio Fontana, Michelangelo Pistoletto, Mario Schifano and the photographs of mature authors already recognized internationally like Gabriele Basilico, Ugo Mulas and Oliviero Toscani, were displayed at the Museum of Contemporary Art in Shanghai until 15 July. In Beijing, from 1 July to 20 August, the works of accomplished artists such as Maurizio Cattelan, whose debut dates to the decade 1990-2000, are being shown at the Continua Gallery. These are important and celebrated artists or young artists who are already part of the art market system, no longer a surprise to collectors and investors.
Italian contemporary art, however, still reserves many surprises. Suspended between the new interpretations of the figurative tradition and the experimentation of original languages and techniques, it is in continuous ferment; works are being produced, one after another, at a frenetic pace.
The most recent generation, that which began to define itself at the beginning of the third millennium has not yet exploded onto the market. It is therefore the most interesting for he who is interested in the latest trends with a potential for affirmation and increase in value. We could call it the Today-Generation. It includes various movements and artists who devour genre and materials, linguistic codes and art techniques and work happily on the frontier of digital art. They defy definition, resist boundaries and are born global.
Exemplary in this sense is, for example, Gaialight. Tall, blonde, good-looking, mother from New York, father Sicilian. She looks like a model for Prada or Ralph Lauren, for Dolce e Gabbana or Gucci. Very Fifth Avenue or Via Condotti. Instead, she's an artist who concedes herself the minimalist look of a person who works night and day on her art. From a genetic point of view, too, she represents the absolutely international cultural basin in which move her fellow artists, like her, restless and voracious. In her works Gaialight stops at nothing and even devours her own points of reference.
Andy Warhol and Pop-Art, architects of the poetry of mass-media, mass-produced objects and brand names for Coca Cola and Campbell soup, in the XXI Century have become, in their own right, brands, objects of mass consumption, for exclusive collectors. Warhol and Pop Art are, today, "old hat" of the last century; icons, memories of the past, elements already digested by the system of mass-media.
Gaialight builds original installations, montages of consumer items (lighters, tin cans, televisions) transformed into three-dimensional supports for collages – artisan and skillful – which require of the artist hours of dedication: the manual dexterity of a Renaissance workshop which cohabits with the most contemporary visions and techniques. Each object is an ideogram, an image, a sign laden with meaning. The characters chosen to cover with their images the support-objects range from Warhol to Barbie, Bush to Saddam, Fidel Castro to Marilyn Monroe, Woody Allen to Totti, and many other protagonists (for better or for worse) of the international star-system who form a pantheon of icons of potentially unlimited consumption.
These original items are then assembled by contents, chromatics, affinity or contrast, and are photographed and elaborated through digital graphics. Large panels are thus born – in a single copy or in very limited editions – which are, simultaneously, collages, installations, photographs, digital art.
Although intellectual, the works of Gaialight are delightful to look at, seducing one's glance. They are "appetizing", as defined by the photographic critic Piero Berengo Gardin; works to be "consumed" in public and private spaces. So much so that they seem to be (and really could be) advertisements. They are complex but at the same time simple works that communicate directly to the public and which have already achieved success on the market and from critics.
The major Italian newspapers have written about Gaialight, including the financial journals particularly attentive to the business of fashion and lifestyle, as well as weekly opinion and women's magazines.
Presently the artist is working on a new cycle of works. More extreme, she says. Today-Generation means just that. The works of the cycles Light, Can, and Light TV, the works of Today, are already Yesterday.